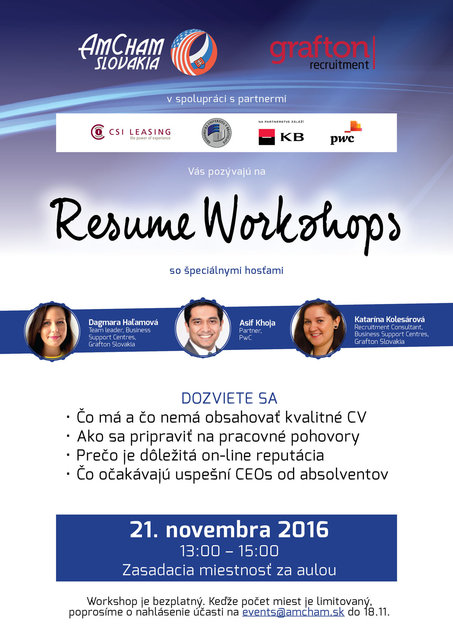 AmCham in cooperation with Grafton Recruitment and our partners CSI Leasing, Komerčná banka and PwC organize a series of interactive workshops designed to help students and soon-to-be graduates to prepare for entering the labor market.
Speakers:

Dagmara Haľamová, Team leader, Business Support Centres, Grafton Slovakia
Asif Khoja, Partner, PwC

Katarína Kolesárová, Recruitment Consultant, Business Support Centres, Grafton Slovakia

During 120-minute long workshop HR experts from Grafton provide useful information on how to put together a quality CV, how to prepare for a job interview or how to use social media in job search.

Guest from PwC provides his executive insight on what qualities and skills CxOs expect from graduates while applying for job at their respective companies.

Since the business community has repeatedly identified a problem with the quality and preparedness of young people during the recruitment process, the aim of the program is to share important know-how and help young people prepare for their future carreers.