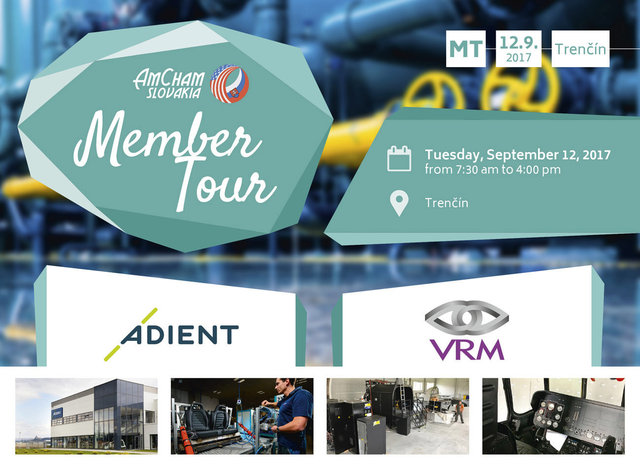 to Adient and VRM (Virtual Reality Media).
Adient Technology Center
In Trenčín, Adient operates the biggest automotive technology center in Slovakia with 420 employees working on development and testing of complete seat systems and seating components for various car models. Teams of engineers and designers develop a wide range of highly innovative products: state-of-the-art complete seat systems, lightweight metal structures and mechanisms for car seats, safety and comfort modules, large foam parts, customizable and very durable trim products and high-performance plastics components.

Virtual Reality Media
VRM is private company engaged in design, development and production of state of the art simulators and training systems. Core company product portfolio include: military simulators (Mig, SU, etc.), civil aircraft simulators (Cessna), and other services (3D modelling).

Preliminary Schedule for the day
7:30        Meet at Hotel Crowne Plaza, Hodžovo nám. 2
8:00        Departure from the hotel by bus
10:00 – 12:00    Adient Technology Center Tour –  presentation, visit of various departments, Q&A session, refreshments
12:30 – 13:30    Individual Lunch Break
14:00 – 16:00    VRM Tour – presentation, Q&A session, demo flight opportunity on the helicopter simulator!
16:00        Departure from Trenčín


TRANSPORTATION
Bus charge will be specified based on the number of visitors

Entrance Fee
Free for members and invited guests

Language
Slovak

Please make your reservation online by August 31, 2017.

For more information contact the AmCham office at 02/5464 0534. All reservations are binding.

Only registered users are allowed to sign up for events. Fill in your e-mail and password



Don't have an account yet? Fill in your data, confirm registration and log in to sign up.


Add event to your calendar
iCal format (ICS), can be opened in various calendar programs, ie. Microsoft Outlook.
Add to calendar
Attendees
This list contains only participants registered online, not by email or phone.
Martin Marek
BALANCED HR s.r.o.
,
Dominik Chmara
BALANCED HR s.r.o.
,
Personnel Consultant
Martin Marek
BALANCED HR s.r.o.
,
CEO
Martina Dolejská
BALANCED HR s.r.o.
,
Sales Director