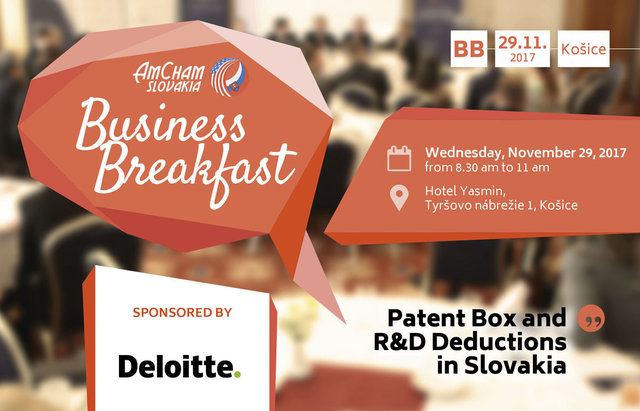 on "Patent Box and R&D Deductions in Slovakia", sponsored by Deloitte.
The second topic will provide insight into deductions for R&D expenditures. Participants will have a unique opportunity to discuss their experience in applying the additional deduction and understand the plans of the Ministry of Finance resulting from the Amendment to the Income Tax Act.

The Business Breakfast will provide a look into the "Patent Box", a supporting tool for R&D implementation to enhance the application of corporate R&D via tax savings for innovative companies.

Speakers
Valéria Morťaniková, Senior Manager, Tax, Deloitte

Milan Šustek, Manager, Tax, Deloitte

Only registered users are allowed to sign up for events. Fill in your e-mail and password



Don't have an account yet? Fill in your data, confirm registration and log in to sign up.


Add event to your calendar
iCal format (ICS), can be opened in various calendar programs, ie. Microsoft Outlook.
Add to calendar
Attendees
This list contains only participants registered online, not by email or phone.
Ernest Salzer
CSI Leasing Slovakia, s.r.o.
,
Leasing Manager
Lubomir Kvaska
U. S. Steel Košice, s.r.o.
,
General Manager IT ERP
Dana Beerova
Magna Slovteca, s.r.o.
,
Accounting supervisor
Veronika Ondirová
Promiseo s.r.o.
,
Account executive
Peter Lacko
U. S. Steel Košice, s.r.o.
,
Process Manager IT ERP P2P
Mariana Hubová
Promiseo s.r.o.