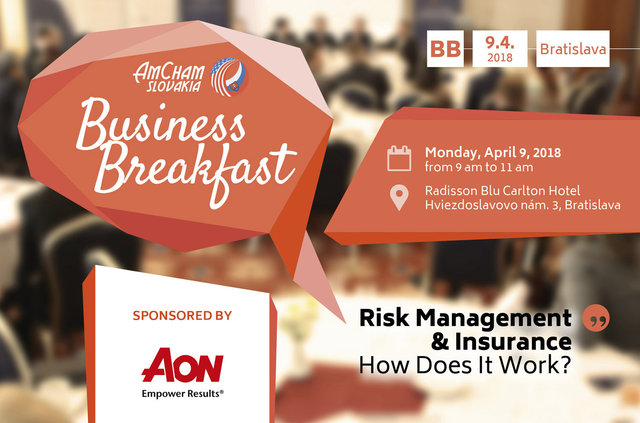 on "Risk Management & Insurance - How Does It Work?", sponsored by AON.
We know that area of insurable and non-insurable risks touches every single company. We are sure that you want to manage it professionally.
The Aon experts will share their experience and know-how in the insurance market, broker's role, risk transfer and both local and international insurance programs. They will provide you with practical advice on preventing the risks that might jeopardize your business activities.
In addition, you will also gain insight into Aon Global Risk Management Survey that includes responses from more than 1800 risk decision makers from about 30 industrial sectors and offers greatest risks identified by global companies´ executives.
Speakers from AON:
Daniel Paracka, Managing Director
Slavomir Cyprich, Commercial Director
Roman Kalocai, Client Service Director
Pavel Hollý, Unit Director
Pavol Nedorost, Account Executive
As the number of seats is limited, please register online by April 6.
Please note that your email address can be shared with the other partners of the event.

Only registered users are allowed to sign up for events. Fill in your e-mail and password



Don't have an account yet? Fill in your data, confirm registration and log in to sign up.


Add event to your calendar
iCal format (ICS), can be opened in various calendar programs, ie. Microsoft Outlook.
Add to calendar
Attendees
This list contains only participants registered online, not by email or phone.
Marian Magdolen
ManpowerGroup Slovensko s.r.o.