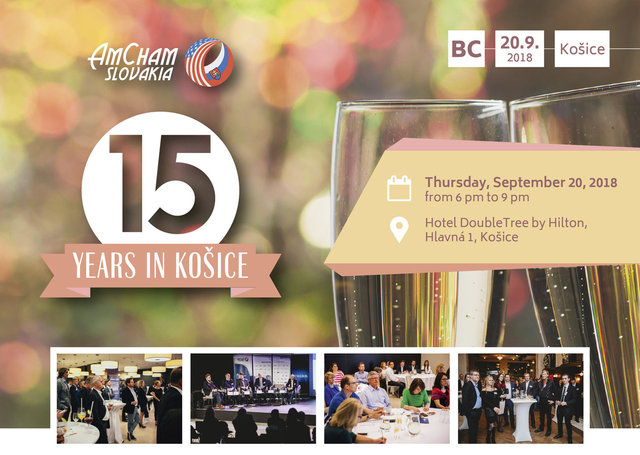 AmCham Slovakia is proud to invite you to the 15th Anniversary of its office in Košice!
Join us at the Anniversary Business Cocktail to meet up after the summer holidays period and celebrate this special occasion with the complete team of AmCham Slovakia.

Want to show your support? Become a sponsor of this event and promote your brand in a unique atmosphere of AmCham Business Cocktails.

Only registered users are allowed to sign up for events. Fill in your e-mail and password



Don't have an account yet? Fill in your data, confirm registration and log in to sign up.


Add event to your calendar
iCal format (ICS), can be opened in various calendar programs, ie. Microsoft Outlook.
Add to calendar
Attendees
This list contains only participants registered online, not by email or phone.
Ernest Salzer
CSI Leasing Slovakia, s.r.o.
František Babič
Technical University of Košice
,
Teacher
Miroslav Švigár
Komerční banka, a.s., pobočka zahraničnej banky
Ivona Demáčkova
Pro Relocation s.r.o.
,
General Manager and Company
Zuzana Harencarova
Pro Relocation s.r.o.
Martin Gbúr
T-Systems Slovakia s.r.o.
,
PDM - Personal Development Manager
Michaela Halász
Creative Industry Košice, n.o.
,
Development Manager
Robert Kollár
LYNX - spoločnosť s ručením obmedzeným Košice
,
COO