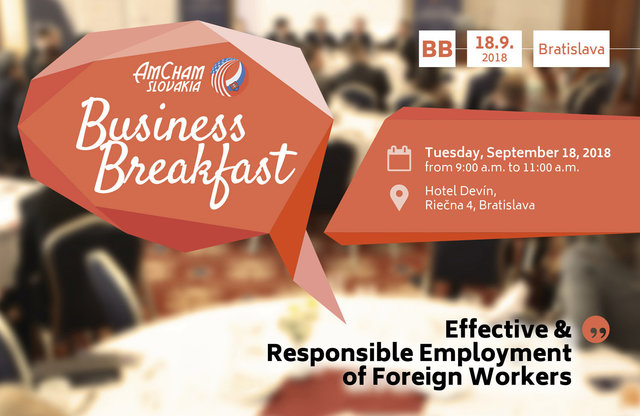 on "Effective & Responsible Employment of Foreign Workers", sponsored by Slovak National Centre for Human Rights. 
Almost 50 000 of foreigners are employed by various Slovak companies. Are you one of those companies? Would you like to become one? Then join us at the business breakfast to gain inside knowledge for employing foreign workers! At the event, you´ll be presented with (in)valuable practical insight for employers to ensure compliance and effectiveness when it comes to the employment of foreigners. On the top of that, we will discuss how all of this fits into the concepts of CSR, Business & Human Rights agenda and Sustainable Development.
Don´t miss the opportunity to consult your concerns with the team of the newly established National Focal Point for Business and Human Rights in Slovakia!
Main points of discussion will include answers to:
Speakers:
The event is best suited for:
HR professionals

People working with CSR

People involved in diversity initiatives
As the number of seats is limited, please register online by September 14.
Please note that your email address can be shared with the partners of the event and used for AmCham internal purposes.
Only registered users are allowed to sign up for events. Fill in your e-mail and password



Don't have an account yet? Fill in your data, confirm registration and log in to sign up.


Add event to your calendar
iCal format (ICS), can be opened in various calendar programs, ie. Microsoft Outlook.
Add to calendar
Attendees
This list contains only participants registered online, not by email or phone.
Diana Nackinova
ADECCO Slovakia, s.r.o.
,
Marketing Specialist
Ivona Demáčkova
Pro Relocation s.r.o.
,
General Manager and Company
Linda Mendelova
Dentons Europe CS LLP
,
Other
Jana Harnosova
ADECCO Slovakia, s.r.o.
,
Service & Delivery Manager
Stanislava Plascencia Lubinova
Slovak Investment and Trade Development Agency - SARIO
Michal Korman
Touch4IT s.r.o.
,
CEO
Jana Gerhardova
BASF Slovensko spol. s r.o.
Miriam Sabadosova
Slovak Investment and Trade Development Agency - SARIO