Business Breakfasts are held at least once or twice a month. The aim of AmCham Business Breakfasts is to provide members the opportunity to meet and discuss current topics.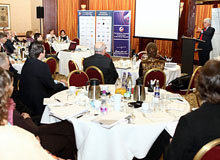 Connected to the local business environment with business specialists, government representatives, VIP's, and other special guests. Business Breakfasts usually begin with an address by an invited speaker, and are followed by an opportunity for open discussion and Q&A. AmCham Business Breakfasts are open to both AmCham members and non-members, but AmCham members enjoy a discount.
Breakfast usually starts 8:30 a.m. and lasts until 10:00 a.m. There are several ways in which your company can sponsor a Business Breakfast, ranging from full-financial sponsorship, to sponsoring through the provision of a topic or speaker or through a combination of both.