AmCham Slovakia's Business Cocktails are bi-monthly events for the general membership, business partners, and for other potential member contacts.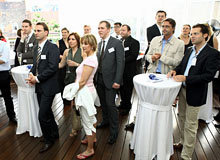 These rather festive events offer our members an opportunity to enjoy time with their business partners in a relaxed, informal atmosphere. It is an excellent place for meeting new people, socializing, and obtaining new contacts. What's more, each cocktail can reflect the sponsoring company's own individual sense of style as events are held in a variety of locations, allowing for both a unique atmosphere and a varying range of refreshments.
AmCham Business Cocktails are open to both AmCham members and non-members.