Seminars and Conferences are focused on specific issues and topics for a particular target audience.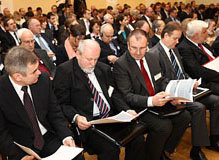 Featured speakers are usually international visitors, politicians, businesspersons, government representatives, diplomats, etc. Seminars and Conferences are organized on an irregular basis according to the schedule of the visiting guest or the requests of the sponsor or co-organizer. These events typically take place in the afternoon. The sponsoring organization or company can suggest a topic, help organize the seminar, arrange speakers, or share or cover the seminar costs.
AmCham Business Seminars/Conferences are open to both AmCham members and non-members, but AmCham members enjoy a discount.