Provide an opportunity for our members to meet and discuss current topics connected to the business environment with business specialists, government representatives, VIP's, special guests etc.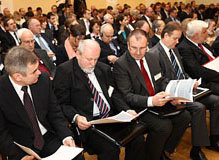 - attendance - 70-120 people, depending on the topic
- open to AmCham members and non-members
- AmCham members attend for free
As part of a business seminars sponsorship, there are a lot of benefits as well as opportunities for your company to be promoted before, during and after the event. The full list and description of the benefits can be found in the attachment below.