Since 1993, AmCham Slovakia hosted the Thanksgiving Gala Charity Dinner. The event has became an eagerly anticipated tradition among the international community in Bratislava.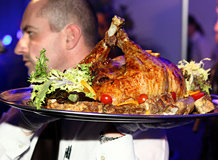 This festive event brings together local and international business leaders, a variety of AmCham members, representatives of the Slovak Government, special guests from abroad and locals just looking for fantastic food, premier entertainment and an all-around good time. The Gala Thanksgiving dinner is the annual reunion of good friends, the meeting of new ones and, in all ways, simply a great evening out.
The AmCham Thanksgiving Gala Charity Dinner is open to both AmCham members and non-members, but AmCham members enjoy a discount.