Proceeds of 25,000 € from the 10th Annual Charity Golf Tournament will benefit physically and mentally disabled children directly through the Miroslav Šatan Foundation and the project "Hodina deťom" (The Children´s Hour Grant programme).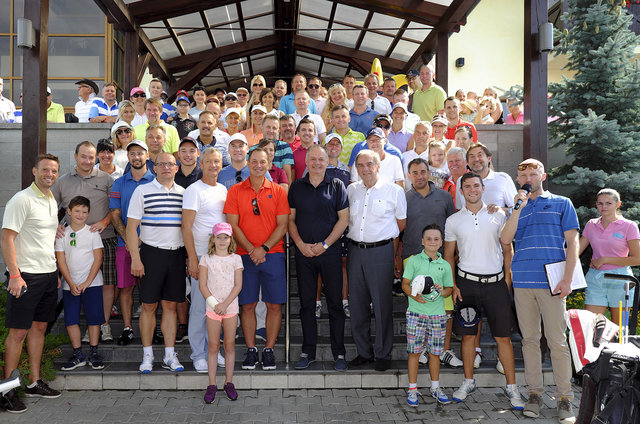 The project has given more than 186,000 € directly to children sorely tried by fate – suffering from severe disability, for the last ten years.
The tournament culmination was handing over the raised sum of money to the children and foundation representatives present. Symbolic cheques of 2,000 € were handed over to parents with their children directly from the hands of Peter Bondra, Miro Šatan and Richard Lintner. A cheque of 7,725 € was handed over to Lucia Jakubíková, the manager of the project "Hodina deťom" (The Children´s Hour Grant) from the Children of Slovakia Foundation.
Well-known faces from Slovak sport and show business came to support the event this year, too. Besides Peter Bondra, Miro Šatan, Marián Hossa, Richard Lintner, Rastislav Pavlikovský, Marek Daňo, Martin Cibák, Ján Lašák, even personalities of our cultural life such as Milan Kňažko, Ady Hajdu, Martin Mňahončák and Filip Tuma played golf along with professional golfers Zuzana Kamasová, Ján Friesz jr. and Skip Málek. Sportsmen donated items of their sports clothing for the auction – hockey-players their ice hockey jerseys, hockey-sticks and helmets and fashion designers their fashion design clothes. The most valuable item was Marián Hossa´s ice-hockey jersey bought at the auction for 2,000 € and his ice-hockey stick for 450 €. A fabulous surprise at auction was 600 € for two sold fig trees with ripe figs grown by Milan Kňažko and for his own honey Slavín and also walnut distillate made by Ady Hajdu for 550 €. In order to honour the tragically deceased mountain porter Martin Hurajt, the Porter Calendar for the year 2018 was bought at auction for 300 €.
The winner of the tournament was Pavol Bielik´s flight, Martin Cibák´s flight finished in second place and Ján Friesz, jr.´s flight was third (he played the best round of 64 , which is 8 shots under PAR golf course). Ivan Matlák played nearest to pin, Dagmar Didiana Dianová and Ján Friesz jr. played the longest drives. The "Texas Scramble" system where the best positioned ball is played enables even less able players to be involved and so golf enthusiasts combined pleasant and useful. "Today the biggest winners are the children who received the help they need and the people who came here to help," said the moved Peter Bondra, "I am glad that children with their families who had received presents from us came here again. We have been through ten successful tournaments and we believe that next year we can prepare an even better tournament and buy even more items at auction and help more people."
A lot of exceptional personalities met near the High Tatras where they talked informally about possibilities how to help Slovakia in transformation and also about the support of sport and young people. Peter Bondra was very precise and professional in coordinating the entire event and he was present everywhere needed.
"Thank you for the support. From the money that we received from the previous six annual tournaments we supported several projects regarding leisure-time activities, helping children in distress or disabled children"said Lucia Jakubíková, manager of the project "Hodina deťom" (The Children´s Hour Grant programme) and continued that "during a 7-year-cooperation the Charity Golf Cup brought in a total of 51,168 € for projects that the Children of Slovakia Foundation will distribute. Many thanks to the organizers as well as the personalities who helped the project "Hodina deťom" (The Children´s Hour Grant programme) in this way."
Written by Danka Velecká, 0903 987 320,
velecka@golfinter.sk
The Golf resort Black Stork continues directly the golf tradition in the High Tatras. It became a favourite place not only for golf players and golf tournaments but also for families with children and company events. With its area of 120 ha, situated very close to the Tatra national Park with its monumental scenery, offers sufficient space for 27 holes, 3 PAR academy, covered teeing ground and further training areas. The golf course was built on the former fields and pastures and through this a lot of new ponds, beautiful landscape corners (places) with various height of grass, bushes and trees. Several protected animal species live here peacefully – one of them is the black stork after which the golf course Black Stork was named. In 2011 the golf course received the prestigious brand A PGA Golf Course that only 20 golf courses worldwide have.