The most useful publication promoting Slovakia as a country with vast investment and trading opportunities will be produced again by AmCham Slovakia, in cooperation with ECENTER.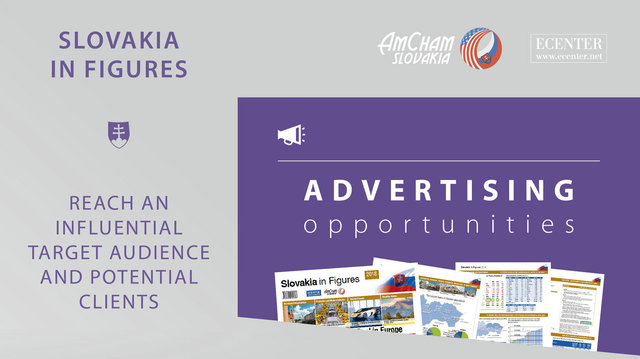 Take part and became a partner by advertising in Slovakia in Figures. Effective way, at very favorable costs, to reach an influential target audience and potential clients or business partners.

This publication will be distributed to all AmCham members, to other AmChams worldwide, embassies in Slovakia, Slovak Embassies abroad, all Slovak ministries and governmental institutions, and to other representatives of the business and diplomatic community in Slovakia.
EXCLUSIVE PARTNER
The only advertiser
Full page ad: 210x297mm + 3mm bleed, PDF (cmyk)
Small cover ad: 60x40mm, PDF (cmyk)
50 copies of the brochures
Mentioning in all email communication and website and social medias as an exclusive partner
Price: 3000 eur*

QUARTER PAGE AD
90x130mm, PDF (cmyk)
Price: 500 eur*
HALF PAGE AD
185x130mm, PDF (cmyk)
Price: 800 eur*
FULL PAGE AD
210x297mm + 3mm bleed, PDF (cmyk)
Price: 1500 eur*
* Prices do not include VAT.
You can download "Slovakia in Figures" brochure on
www.amcham.sk
.
MORE INFO & RESERVATIONS
02/5464 0534 or
patrik@amcham.sk