As we are organizing our annual AmCham Thanksgiving Gala Charity Dinner 2018 we would like to take this opportunity to host our traditional annual Thanksgiving Charity Drive to make a change for those who need it the most in our community.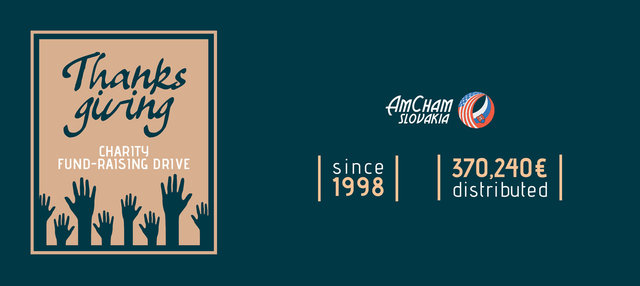 As has been AmCham´s tradition, we will seek again donations from our members to be distributed to a deserving charity in Slovakia.
This year AmCham plans to support Cesta von – project OMAMA, nominated by HP, Seesame and Neulogy.

OMAMA is an early child development home-visiting intervention program, designed to support the inclusion of Roma children living in extreme poverty through effective methods of child development. Home visits are delivered on a peer-to-peer basis once a week by trained Roma women, respected in their community. Therefore, the program also supports the inclusion of Roma women by providing employment and skills-building opportunities. In the first phase, the program is implemented in cooperation with local partners in Kecerovce, Zborov and Muránska Dlhá Lúka.


In order to make this Charity Drive a success, we kindly ask you for your support. The suggested contribution for AmCham members is 1,000 € and 200 € for individuals. Of course, any amount is greatly appreciated.


Please complete the attached Pledge Record and send it to AmCham by email at office@amcham.sk by November 22, 2018.

All contributions can be accepted by bank transfer to our special Charity Drive account: American Chamber of Commerce in the SR, IBAN SK49 1100 0000 0029 2690 2357

The solicited amount will be handed out to the charity during the Thanksgiving Gala Charity Dinner on November 23, 2018.
Sincerely, AmCham Team.