The Board of Directors of AmCham Slovakia would like to inform of the results of the recent elections carried out by the AmCham Board for the position of President of AmCham Slovakia.
Todd Bradshaw, Country Managing Partner of PricewaterhouseCoopers Slovakia (PwC) and Public Sector leader for PwC CEE, has been elected as the new President of AmCham Slovakia. As such, he replaces former AmCham President Igor Kottman, who left his position as Citi Country Officer for Slovakia of Citibank Europe plc. to take up a new position in Prague as of January 2016.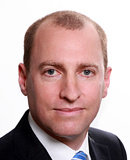 Todd Bradshaw, originally from Perth, Australia, has 20 years of experience working as a corporate tax and business advisor, which includes 15 years working in Slovakia. During this time he has assisted many investors to establish their businesses in Slovakia. He has been an active member of the AmCham Board of Directors and the Policy & Advocacy Board Standing Committee over the last six years.

The new president and the entire Board look forward to further enhancing the efforts of AmCham Slovakia for the long- and short-term future.